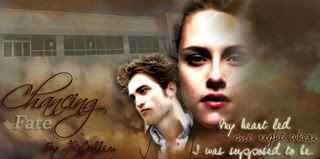 Chancing Fate by JMCullen09
Author Summary
:
After relocating to Forks with her parents to take ownership of the family store, Bella Swan meets an angry Edward Cullen - who happens to work at her parent's store, but not by choice. Both have secrets and pain. Is their meeting coincidence or fate? OOC
Why shackle_me loves it
:
This was not the story I originally planned to rec this week. I was actually flip-flopping between two other stories and I thought I had figured out which one I was doing. That is, until I read Jess' latest update of Chancing Fate. Guh! Suddenly, I couldn't remember the other stories I had even planned to rec! Ok, so I'm mostly joking about that last part...those stories will just be recced later.
I'm not even sure where to start with this rec. It's no secret that I LOVE Jess and her stories. All of them. But there's something about this one that leaves me literally aching for more.
Bella has moved to Forks with her parents, who are taking over management of Higgenbotham's, a grocery store left to them by an uncle. We soon learn that it was almost a necessity that they take over the store, as Bella has recently received a heart transplant and her medical bills have basically wiped out the family's savings. Bella is very self-concious about her scar from the transplant, so she wears turtlenecks most of the time. But underneath her self-conciousness, Bella is a feisty one! Somewhat naive in my opinion, but feisty nonetheless!
Bella first meets Edward in Biology and he's less then welcoming. In fact, he's downright rude. Unfortunately for her, he's also an employee at Higgenbotham's, though clearly not by choice. Their first encounter is beyond awkward - Bella investigates some noises in a utility closet and finds Edward in a rather compromising position with Tanya. Yeah, I know. *Blech*
Edward (aka Intenseward) is VERY angry. And VERY volatile. And yet he's so.freakin.hot. It's insane. I mean, damn...you can almost FEEL the anger rolling off of him when you read EPOV! That's how good Jess is at conveying what her characters are feeling. The thing is, Edward doesn't WANT to feel. He wants to be numb. (The reasons behind his anger haven't completely been revealed yet, but there's a story there and I'm dying to know what it is!) And unfortunately, Bella makes him feel all kinds of things...lust, anger, lust, jealousy...did I mention lust? ;-)
The UST in this fic is OFF THE CHARTS. Bella and Edward are obviously insanely attracted to each other, though they are both fighting valiantly against it. Edward is rude and mean and Bella doesn't let him get away with it. And defiant Bella seems to be quite the turn-on for Edward. UNF! He has a habit of backing her into shelves, walls, etc. and every time he does, I swear I'm about to spontaneously combust! Damn, I think I need to reread chapter 8...hallway...kissing...big...wait, what? What was I talking about? *fanning self*
Will Edward be able to stay away from Bella? Is he willing to FEEL again? Will Bella let him in? What about her scars? What about his? Do either of them even have a choice in the matter? Fate is a funny thing sometimes!
I should also note that Jess has a unique way of incorporating members of the Volturi into her stories. I won't tell you who it is or how she does it in this one, but just know that she does!
Seriously...if you're not reading Chancing Fate, you're missing out! I'm not reccing this just because I'm such a fangirl when it comes to Jess. I'm reccing it because it's THAT good. Trust me, you won't be sorry!