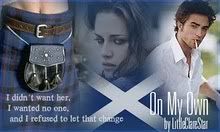 On My Own by littleclarestar
Author Summary
:
Reluctantly running the family house and estate on an island off the West Coast of Scotland, having inadvertently run it towards bankruptcy, ex Soldier Edward Cullen has help forced upon him by the bank, in the shape of one I Swan
.
Why JMC loves it
:
Despite the fact that it's amazingly well written, this story has a completely different type of Edward. This was the very first Kiltward fic I had ever read. I loved the fact that he was Scottish born, which is something entirely unique in itself.
This Edward is a strong character, but he has many flaws, which makes him more realistic. I love that he isn't perfect, because that's something we can relate to. When you have a character that is too perfect, the intrigue in them lacks. You get bored. He's sexy, he's smart, he's loving, he can be a total ass, but you love the complete package.
Bella's characterization is unique too. I love that littleclarestar makes her independent and strong. Those qualities are something a lot of Bella's don't have. She's fierce, and she's not afraid to hold her own against Edward. She's bound and determined that whatever she may feel toward him, she's going to do the job she was sent to do regardless.
Though the characterizations are so completely different from anything I've read prior, littleclarestar stays true to the connection SM's Bella and Edward share. They both try to fight it, though, given the circumstances they're under (Bella works for the bank that financed his home, so the fate of his estate lies in her hands), but it's undeniable. It's fate.
I can't stress enough how much you all should be reading this fic. It makes you feel so many emotions, but there's no doubt that once you start it, you become hooked. It's definitely one of my favorites.