Today, we're pimping samrosey's amazing fic
Come Find Me
!
If you'd like to pimp your fic, all you have to do is click the tab at the top of the page and pimp away!
Happy reading!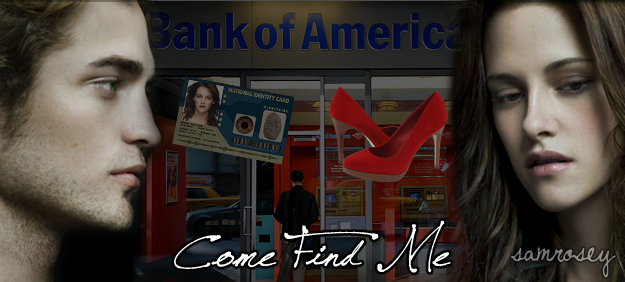 Come Find Me
by
samrosey
Official Summary:
Alone, cold, too many rooms for one man. The black sky, lost and inviting. He can't see what's there but wants to want what's past it. - She's lost and longs to be found, terrified and stuck in limbo, numb. Feel me. Come find me. AH. Edward and Isabella
Sophz456's say:
I'm a sucker for new fics, and as the author pointed out when she asked us to consider her fic for recommendation, nobody ever really fic dives anymore, so it's hard to find them when they're just at the baby stage, like this fic is. It's only 6 chapters long at the moment, but samrosey updates frequently, and what's up at the moment is absolutely amazing. I read the first chapter, and sat there thinking "Wow."
The summary alone was enough to grab my attention, and somehow, I found myself drawn in from the very first line. Samrosey has a way of writing that's so poetic and truly unique - it's kind of beautiful to read - so you can imagine my surprise when I found out it only has around 20 reviews so far, which is an absolute tragedy in my opinion. It deserves far more than that.
I don't want to say to much, because this fic is something you really have to experience for yourself, but what I will say is that it's well worth reading and I'm sure you'll fall in love with it like JMC and I have.
I really hope you'll give this fic a chance, and I ask that you review if you can - I know from experience that when you're a first time author putting your work out into the world, a little bit of feedback can make the world of difference.
Thank you, and enjoy! xoxo